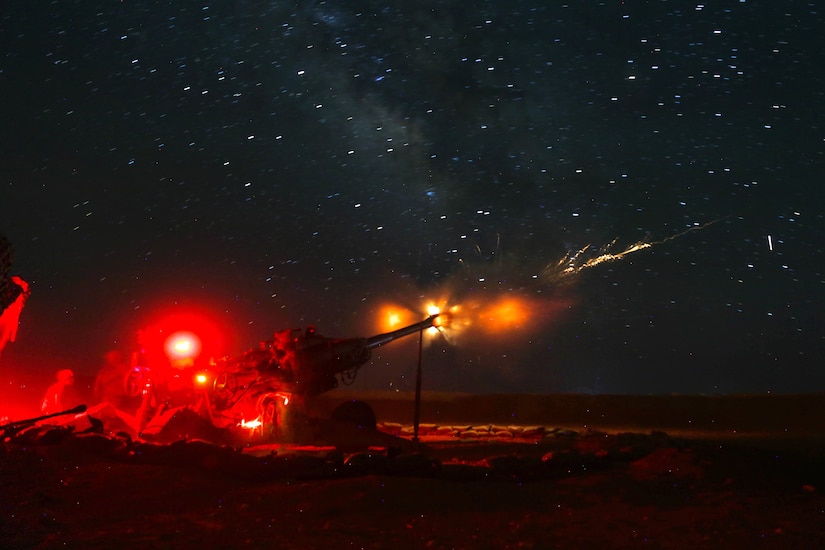 By Army Capt. Jason Welch, 3rd Cavalry Regiment
SOUTHWEST ASIA -- In northwestern Iraq along the Syrian border, the desert echoes with the sound of artillery.
A fire support base hums with activity as service members move about in the heat, reloading, firing, cleaning, maintaining, and securing artillery positions. They speak different languages, but are bound by the common effort of defeating the Islamic State of Iraq and Syria with each artillery barrage.
Iraqi security forces, working alongside troopers from the 3rd Cavalry Regiment "Brave Rifles" and Marines and sailors from other units of Combined Joint Task Force Operation Inherent Resolve, arrived weeks ago to establish the temporary fire support base.
Their mission is to provide supporting fires to forces participating in Operation Roundup, the operation to defeat the last pockets of ISIS from northeastern Syria. This required close coordination to synchronize fires from multiple weapon systems.
"The most satisfying moment in the mission, so far, was when all three artillery units -- two Iraqi and one U.S. -- executed simultaneous fires on a single target location," said Army Maj. Kurt Cheeseman, Task Force Steel operations officer and ground force commander at the fire support base.
Common Technical Language
Iraqi and U.S. gun crews and fire direction centers developed a common technical language to coordinate fire missions and overcame any multinational language barriers.
"This mission required the use of multiple communications systems and the translation of fire commands, at the firing point, directing the Iraqi army guns to prepare for the mission, load and report, and ultimately fire," said Army 1st Lt. Andrea Ortiz Chevres, Task Force Steel fire direction officer.
The D20 howitzer unit used different procedures to calculate the firing data, which is the information required to determine the correct flight path to achieve effects on the desired target, Ortiz said. "In order to execute coalition fire missions, we had to develop a calculation process to translate their firing data into our mission data to validate fires prior to execution," Cheeseman explained.
The result was synchronized firing by both Iraqi and U.S. artillery. "This single fire mission was a perfect demonstration of the purpose, effectiveness, and lethality of the partnership at the fire base," Cheeseman said.
Establishing the fire base and sustaining it presented its own challenges. Troopers arrived to a bare patch of desert, with no fortifications or life support.
"Everything originally emplaced was done by hand and, through the hard work of Marines and soldiers, we emplaced fighting positions, a tactical operations center and living areas," said Army 1st Lt. Ashton Woodard, a troop executive officer in Task Force Longknife.
To create more permanent emplacements, engineering assets such as bulldozers and forklifts were brought forward, Woodard said.
"Following 10 days of around-the-clock labor in intense environmental conditions, the most satisfying moment was seeing the completion of the physical security perimeter," said one Marine contributing to the security of the fire site.
Coalition forces and Iraqi partners worked with Brave Rifles engineer teams to establish a secure perimeter providing stand off and protection for the U.S. and Iraqi artillery units.
Various Units Involved
Many organizations came together to make the fire support base possible. Within 3rd Cavalry Regiment, personnel and equipment came from five different squadrons spread across the area of operations. Navy, Marine Corps and Air Force units also provided planners, personnel and equipment. Coalition partners from several different nations participated in the planning and coordination of the complex movement and logistical scheme that brought all the forces and resources together.
"Supplies were delivered from both air and ground by the Army, Air Force and Marines, and include delivery platforms such as medium tactical vehicles, UH-60 Black Hawks, CH-47 Chinooks, CV-22 Ospreys, C-130 Hercules and a C-17 Globemaster," Woodard said.
"We receive resupply airdrops that include food, water, fuel, and general supplies," he added.
With the supply challenge solved, Brave Rifles troopers and coalition troops focused on working with their Iraqi counterparts, easily overcoming any language and technical differences. "The language barrier has not been a significant issue for the execution of fire support base operations," said Army 1st Sgt. Reonel Mina, Task Force Steel. "The Iraqi army leaders are familiar with working with U.S. forces and the assigned linguists are extremely proficient and understand the mission and intent of the base. They are not only linguists, but also cultural advisors to fire support base leaders and soldiers."
Depending on Partners
Working side by side, Iraqi and U.S. artillerymen depend on each other to achieve mission success. "Our Iraqi army partners at the fire support base are professional and battle-tested formations," Cheeseman said. "They are rich in culture and tradition and are extremely gracious and generous."
"They're eager to work with the American M777 howitzer and fire direction crews and share artillery knowledge and procedures," said Army Sgt. 1st Class Isaac Hawthorne, Task Force Steel master gunner. "The U.S. and Iraqi army soldiers spend time together training and sharing culture."
Cheeseman agreed. "There is a common artillery bond that transcends nationality or unit," he said.
"It is a pleasure [working with our Iraqi partners], they are very professional and willing to learn and teach to create shared understanding," said Army Capt. Chase Kelley, a troop commander in Task Force Longknife and the security forces commander at the fire support base. "They respect our measures for security and participate in our regular drills and rehearsals."
Coalition troops operating out of the fire support base remain extremely motivated and continue to demonstrate their proficiency and dedication to the mission, Cheeseman said.
The remote fire base is temporary and expeditionary, absent any permanent structures and exposed to summer desert temperatures well above 100 degrees Fahrenheit or 38 degrees Celsius.
"They are enduring harsh weather conditions and a lack of luxuries, but unlike previous deployments for many, each element is performing their core function in a combat environment," Cheeseman said. "The fire support base is a perfect example of joint and coalition execution that capitalizes on the strengths of each organization to deliver lethal fires, protect our force and sustain operations across an extended operational reach."